After two years of virtual youth activities due to the restrictions of the Covid-19 pandemic, more than 300 youth of the East Jamaica Conference joined together for a unique face to face summer camp experience in St Thomas.
The camp, which was staged at the Robert Lightbourne High School in Trinityville, ran from August 9-15, 2022 and was dubbed "Under Construction: Rebuilding from the Inside Out".
Many first time campers and a few Non-Adventist youth joined the lot, engaging in never before staged activities such as Sip and Paint, Candle Making and Feast of Lights - a spirit-filled candle lit vespers service.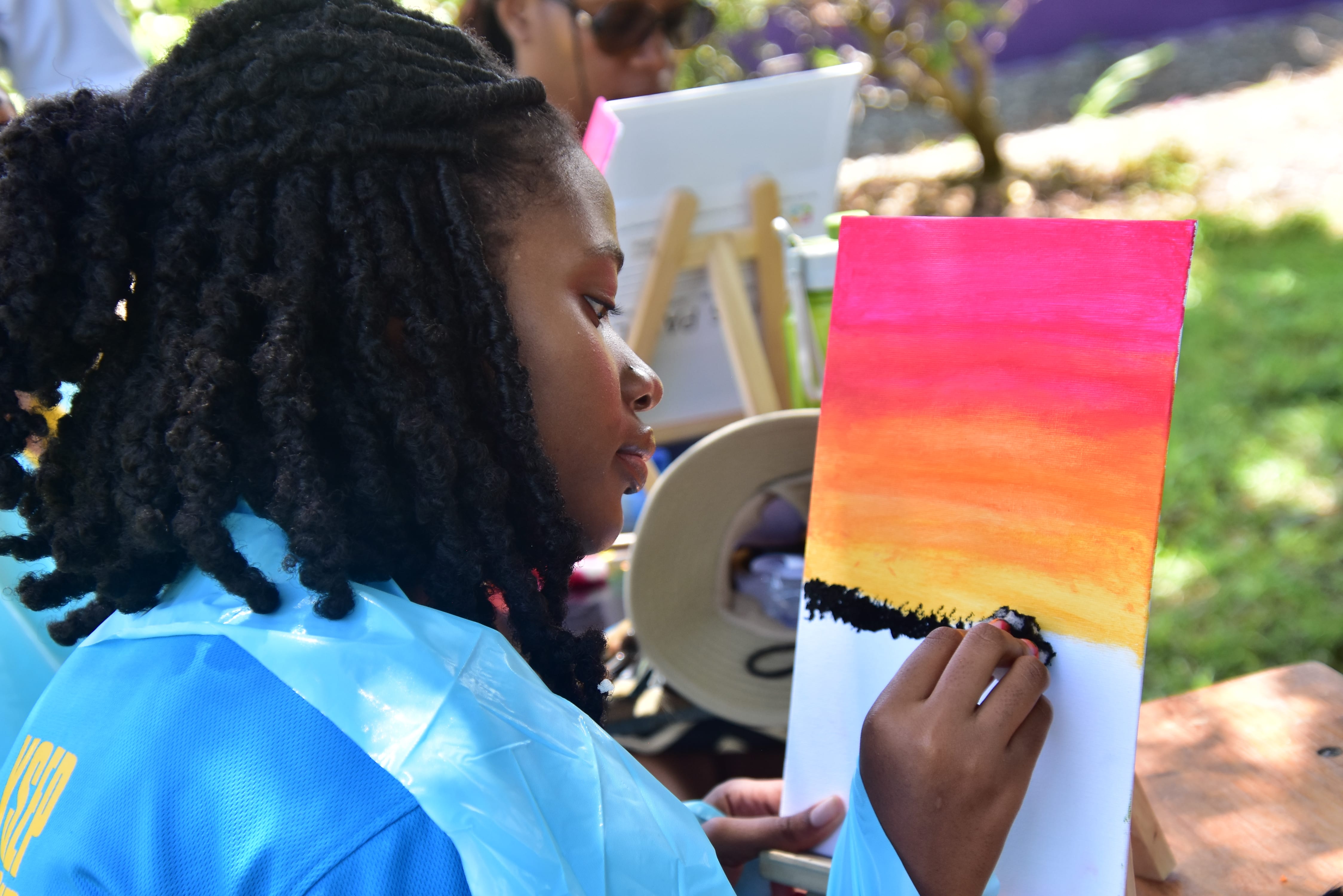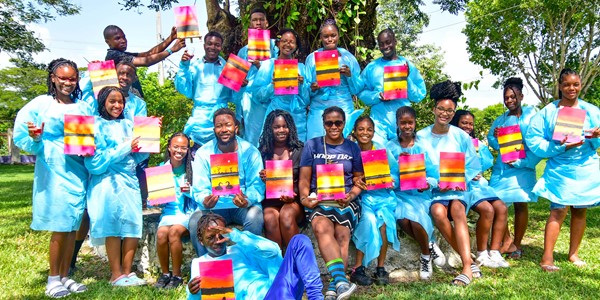 8 year old Kaitlyn Warren, from the Johnson Town SDA Church was thrilled by the experience. "Camp was very vibrant and fun. This is the most active camp I've ever seen. I wish it could continue for more days," said Warren.
During the 7 day camp, the youth who represented churches across the conference participated in numerous activities including a daily Power Hour, 'Jamquet', Rap Sessions, Screen Printing, skills training such as Audio Engineering, Level Up Fitness, Sports Day and more.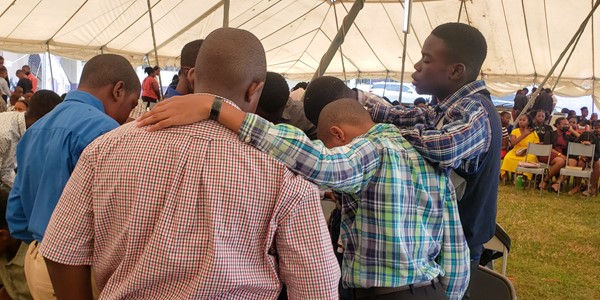 Meet Me By The River
Youth Director, Pastor Joel Jumpp expressed profound gratitude for a successful camp but also acknowledged that there was a difficulty with the water supply.
"The camping experience has been an amazing one… Even though we did everything to minimize the challenges that the campers would have to go through, we had one major challenge which was the water," said Jumpp.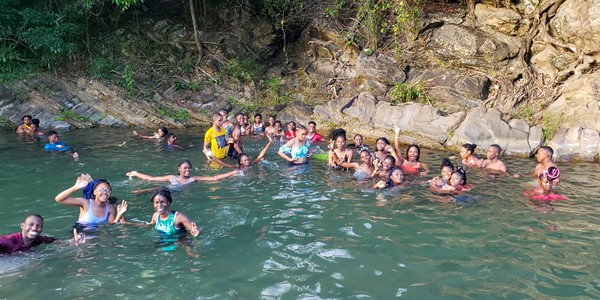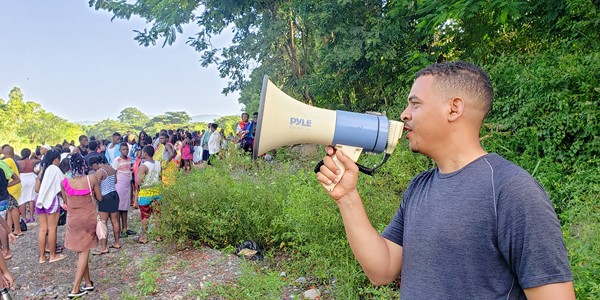 However, what would have been deemed as a disadvantage by many, was viewed  otherwise by most campers.
"My favourite part of camp was when water gone and we had to go to the river," said 17 year old Daren Valentine.
Reyanna Fredankey also agreed saying, "We barely had water here, so we had to go to the river for almost every bath, and that was fun because I had never been to a river before camp."
With the current national and global heat wave, body temperatures were kept in check as campers and counselors excitedly took numerous trips to the river that flowed adjacent to the campsite.  
On the Friday of camp, a "Jamaica 60' National Prayer Breakfast was held attended by special guests including police officers of the nearby Seaforth Police Station and a representative of the custos of St Thomas.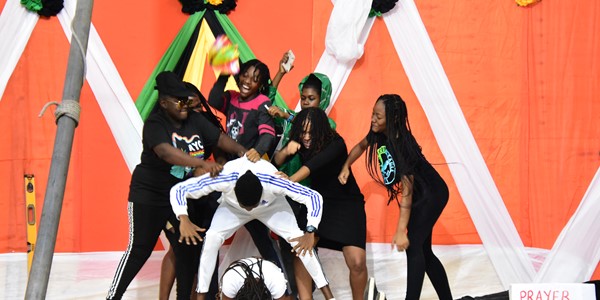 Camp Manager, Kimecia Griffiths-Buchanan, though hoarse and exhausted, was visibly pleased with the outcome of camp 2022.
"The planning process was intense, but it was all worth it. The children had fun, they kept me busy, they kept me youthful and I just love them for who they are and who they can become," said Buchanan.
Keep Moving Forward
Pastors Ryandro Brown and Selvin Stewart, in their capacity as camp chaplains, charged campers daily to walk with purpose, leading them into captivating rap  and power hour sessions.
During the last devotional session at line call on departure day, Pastor Jumpp encouraged campers to stay put in the church regardless of bumps along the journey.
"The one thing I want you to promise me in leaving this camp is that when you fall, you will get up one more time. By any means, keep moving forward."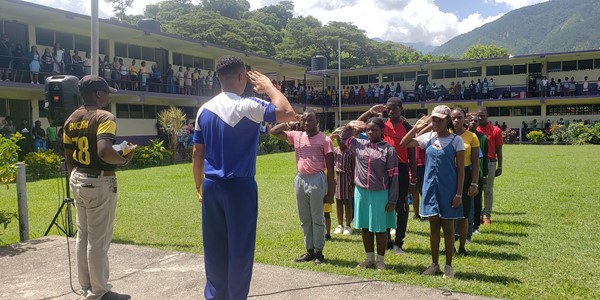 "When people say negative things to you, remember the love, peace and grace that only Jesus can give," He continued.
Jumpp expressed gratitude to the volunteers, St. Thomas pastors and zonal leaders, East Jamaica Conference staff as well as to the Robert Lightbourne High School leadership, principal Mr Paul Clare, for the support and opportunity to camp at the institution.
East Jamaica Conference of Seventh-day Adventists Comment Guidelines: