In a heartwarming reunion, Elder Paul Douglas, a native of Jamaica and Treasurer of the General Conference of Seventh-day Adventists, returned to his former church after a remarkable 50-year absence. The highly anticipated event took place at the Rollington Town Seventh-day Adventist Church on Wednesday, July 8, 2023, as Elder Douglas graciously shared a powerful sermon with the congregation that once played a significant role in his spiritual journey.
The service began with a fervent prayer from Elder Douglas, humbly requesting divine guidance, "Let the words of my mouth and the meditation of my heart be acceptable in Your sight, O Lord, my strength and my Redeemer."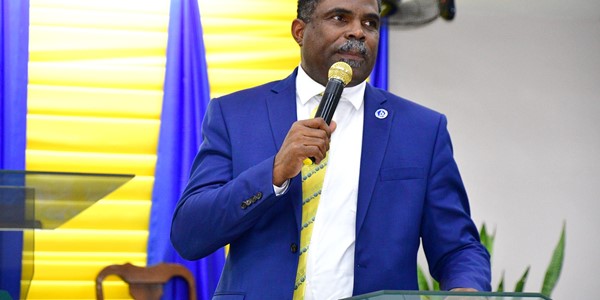 The singing group One Accord warmed up the atmosphere with a soulful rendition of "Who Am I," a song that held deep personal significance for Elder Douglas.
Expressing gratitude for his return to his spiritual roots, Elder Douglas revealed, "I am here to fulfill a promise." With genuine appreciation, he thanked the congregation for warmly welcoming him back. Recalling his past, Elder Douglas reminisced about the old baptismal pool that once stood within the church's walls. It was at this very location on June 30, 1974, that he received the sacrament of baptism, performed by his father.
The GC Treasurer's visit was also an opportunity for him to testify about his father's acceptance of Christ at the same church in 1945, marking the beginning of a powerful spiritual legacy in a their family. After 22 years, his father became the pastor of the church, establishing a firm foundation of faith that still resonates with Elder Douglas today.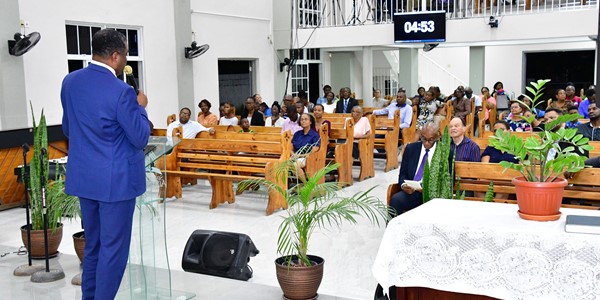 Injecting some lighthearted humor into his sermon, Elder Douglas jokingly remarked that the current pastor, Dr. Meric Walker, President of the East Jamaica Conference, might not know everything. Reflecting on the progress made over the years, he highlighted the transformative efforts of the youth in breaking down barriers within the church. He credited the youth for their work in establishing Youth Day and Children's Day, creating spaces where young people felt welcome and embraced.
In his sermon, Elder  Paul Douglas paid tribute to pastors of the past, including the influential figure of Pastor Devon Osbourne, whose ministry began at Rollington Town. Emphasizing the importance of faith, he  cited the Bible verse Proverbs 3:5-6 as a guiding principle: "Trust in the Lord with all your heart and lean not on your own understanding; in all your ways submit to him, and he shall direct they path."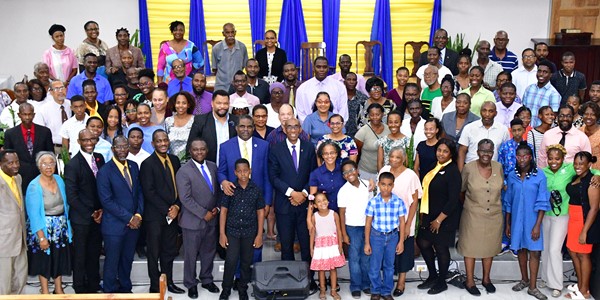 Sharing his personal journey of resilience and trust in divine providence, Douglas recounted the challenges he faced when he first migrated to the United States at the age of 18. After being reject about 4 job offers while seeking employment, he never lost faith. After fervent prayers and seeking God's guidance, he received a call from the General Conference of Seventh-day Adventists, expressing interest in his skills, even when he was pursuing other opportunities.
Quoting a powerful message he received from God, Elder Douglas declared, "Those rejections were my directions... God blocked it." Following this providential intervention, he dedicated 35 years to serving as an auditor for the General Conference. During the height of the COVID-19 pandemic, Elder Douglas received another significant call, summoning him to his current position as Treasurer.
With a grateful heart, the Adventist World Church treasurer expressed his appreciation for God's faithfulness and guidance throughout his life. He encouraged the congregation, both young and old, male and female, to acknowledge God in all their ways, trusting that He will direct their paths.
The congregation at Rollington Town was deeply moved by his sermon, as it served as a reminder of the power of faith, perseverance, and the lifelong impact of spiritual foundations laid in their community. Elder Douglas left the church that evening with the knowledge that he had fulfilled his promise and left an indelible mark on the hearts of those who listened to his words of wisdom and inspiration.
East Jamaica Conference of Seventh-day Adventists Comment Guidelines: